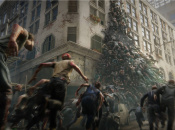 Not much of a worldy.
World War Z launched yesterday, but its first day on the market didn't exactly go smoothly. Players have reported numerous issues such as multiple failed attempts to connect to the game's servers and problems during gameplay that halts progression.
The biggest issue at launch appears to be a lack of servers for players to join, meaning that the game is only playable in an offline state. For an online-focused co-operative title, this is quite clearly a major issue. To developer Saber Interactive's credit though, it looks like the team is trying its best to get more servers up and running to alleviate the problem.
Read the full article on pushsquare.com