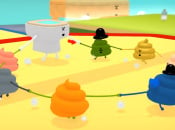 Source: PushSquare: http://www.pushsquare.com/news/2019/11/wattam_might_have_the_best_trophy_descriptions_of_all_time
"You've pooped 101 times".
We're always keeping our eye out for new Trophy lists on Exophase, and the peculiar-looking Wattam just appeared on the site ahead of its planned December launch. It's not your ordinary list of trinkets, however, because the Funomena title could have the best Trophy descriptions we've ever seen.
Thankfully, the 37 tasks on offer do amount to a Platinum Trophy at the end of it all, but it's not even what the trinkets will have you doing that's the best thing going on here. There appear to be numerous rewards for story progress, holding hands, and climbing high, but it's the descriptions accompanying those Trophies that turns this into something pretty special.
Read the full article on pushsquare.com