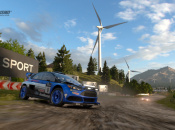 And it's aiming for 2030.
We all need to be thinking about conserving energy, but it's especially crucial that companies run their operations responsibly and in a more environmentally friendly manner. Sony was recently given a very poor D-rating by Greenpeace in a tech report, after it relied on just five per cent renewable energy to power its global operations. It since set a worldwide goal of switching entirely to greener sources by 2040 – and it wants to achieve that target in the US specifically as soon as 2030.
Currently the company powers about 25 per cent of its operations in the States using renewable energy, so it's got a lot of work to do over the next decade to get that number up. It's worth doing, though, as climate change is a very real, very scary thing that's going to affect us all if we don't start doing things differently. "This shows the business community what can be done, and we encourage all major companies to follow suit," said RE100 head Sam Kimmins of Sony's plans.
Read the full article on pushsquare.com
Source/ Readmore at PushSquare http://www.pushsquare.com/news/2018/10/sony_wants_100_per_cent_of_its_us_operations_to_be_powered_by_renewable_energy