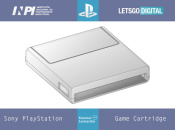 Source: PushSquare: http://www.pushsquare.com/news/2019/11/sony_files_patent_for_curious_new_cartridge
Tomorrow is in your hands?
Sony has filed a patent for a curious new cartridge in Brazil, raising speculation about the nature of the product it's designed for. The last cartridge-based console that the company released was the ill-fated PS Vita, and with the PlayStation 5 already confirmed to include a 4K Blu-ray drive, it's unlikely to be related to that. Could this be a new handheld?
The answer is almost certainly no, because we've been here before, haven't we? Around this time last year, the platform holder patented a strangely shaped cartridge, prompting all sorts of speculation. Those rumours were quickly quelled, however, when it emerged that the device was actually for the Sony Toio, a toy only available in Japan.
Read the full article on pushsquare.com