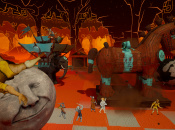 With a boulder new hook.
We rather liked Rock of Ages II: Bigger and Boulder. The series is an entertaining blend of tower defence and racing, sort of. It's an oddball experience, but the act of throwing a huge boulder down a hill, dodging obstacles and aiming to smash into the castle at the bottom, is surprisingly good fun.
The last game arrived on PlayStation 4 a couple of years back, but now, developer ACE Team is readying up the third entry in its overlooked series. Rock of Ages III: Make & Break has been announced, and yes, it looks just as barmy as the others. The Monty Python-esque animations and humour are in, of course, but this sequel adds a new layer to the gameplay.
Read the full article on pushsquare.com
http://www.pushsquare.com/news/2019/08/rock_of_ages_iii_make_and_break_rolls_onto_ps4_in_2020