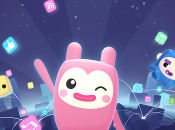 Melbits and Melbobs.
The first thing you'll notice about Melbits World, a new family game for the phone-based PlayLink series, is that it's pretty. Very pretty. The sickly sweet, blocky Melbits themselves are cute, but the worlds that surround them are also eye-catching in a minimalist way. It's certainly hard to think of a PlayLink game as visually appealing as this one.
And along with its basic but charming visual style is some basic but charming gameplay. The end goal of every level is to get your Melbits from one pipe to another, by way of a few set routes. Every player is then given a button or slider on their phone screen connected to a moving piece on screen. It's everybody's job to communicate with each other and control their pieces so enough Melbits survive the level.
Read the full article on pushsquare.com
Source/ Readmore at PushSquare http://www.pushsquare.com/reviews/ps4/melbits_world