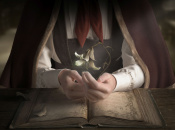 FromSoftware with love.
Long before FromSoftware burst into the public consciousness with its Souls titles, it already had a large body of work to its name dating back decades. But after finding mainstream success with the likes of Bloodborne, its newest title Déraciné offers a glimpse to the past. And while this PlayStation VR foray is unlike anything it's released recently, the connective tissue still remains.
Déraciné is first and foremost a walking simulator – and yes, we can see some of you rolling your eyes already, but stick with us, as this is one of the good ones. You play as a faerie, a sort of ethereal spirit who has come to visit a school frozen in time – except when you interact in specific ways – set in a decidedly European forest.
Read the full article on pushsquare.com
Source/ Readmore at PushSquare http://www.pushsquare.com/reviews/ps4/deracine