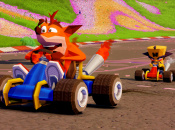 And you keep your expectations in check.
Sony's State of Play livestream is currently being bombarded with dislikes, which is just about as predictable as the sun rising tomorrow. In this instance, however, it feels just a teensy bit unfair, because the platform holder put together a broadcast that actually exceeded my admittedly low expectations. It's really no wonder the manufacturer has been cancelling press conferences and keeping its collective trap shut – it seems the company can do no right in the eyes of insatiable fans.
Look, I understand that today's stream was light on the biggest of blockbusters, but when we're predicting literally minutes of Sid Shuman playing MLB The Show 19 ahead of time, then how can you really be disappointed with this swift look at the PlayStation 4's next three months? Clocking in at 20 minutes, this was a beat-by-beat replica of the Nintendo Direct format – a positive when you consider how the House of Mario has its communications mastered to a fine art these days.
Read the full article on pushsquare.com