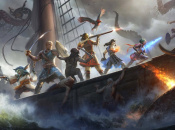 Both join the Xbox family.
Microsoft has added two more former multiformat developers to its first-party roster, meaning that both Obsidian Entertainment and InXile Entertainment will no longer make PlayStation games. The former is perhaps best known for Fallout: New Vegas, while the latter created Hunted: The Demon's Forge. Both studios have PlayStation 4 projects in the pipeline in Pillars of Eternity 2 and Wasteland 3, and presumably it'll be allowed to deliver these before it turns its attention to full-time exclusives.
These are the latest in spate of Xbox acquisitions, which have also seen the likes of Ninja Theory join the team in green. In the case of Obsidian Entertainment specifically, recent sales figures for Pillars of Eternity 2 painted it as a "sales disaster", and there was some discussion that the studio was on the verge of collapse. As such, this is probably a win for everyone involved, even if it means we're probably not going to see the Knights of the Old Republic 2 developer put anything on PlayStation again.
Read the full article on pushsquare.com
Source/ Readmore at PushSquare http://www.pushsquare.com/news/2018/11/obsidian_inxile_will_no_longer_make_playstation_games