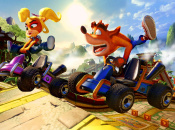 All your questions answered.
Everybody's favourite bandicoot is boosting back onto PlayStation 4 with Crash Team Racing Nitro-Fueled. It's right around the corner, and fans will no doubt be gearing up for this supercharged remake of PSone's beloved CTR. There's plenty of information to absorb about this chaotic kart racer, so without further ado, let's go through all we know about Nitro-Fueled.
What is the release date for Crash Team Racing Nitro-Fueled?
CTR Nitro-Fueled drifts onto PS4 on Friday 21st June, 2019.
Read the full article on pushsquare.com