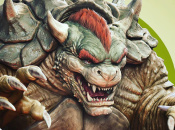 At least this take on Sonic looks good.
These drawings are rather impressive aren't they? Raf Grassetti, best known for his work as art director of 2018's God of War, has been taking a stab at drawing Nintendo characters over on his Instagram account. It's a very realistic take on members of the Mushroom Kingdom and wider Ninty franchises, and we recommend you check some of them out over on his Instagram page. We've shared some of our favourites below, while Grassetti's sketches of Disney characters can also be found in the previous link.
What do you think? Impressed? Show us your drawings in the comments below.
Read the full article on pushsquare.com