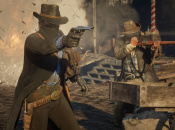 Western registers strongest second week of 2018.
A dry week for new releases saw Red Dead Redemption 2 secure the strongest second week sales of any game in 2018 in the UK, as the critically acclaimed Western saw its physical units dip by just 51 per cent compared to its debut weekend. That's a strong hold for a title already putting up huge numbers, and it hints that we can expect excellent legs for the long-awaited sequel.
To be honest, though, this was a fairly predictable week all things considered, with no meaningful releases on the PlayStation 4 to speak of. The top five continued to be dominated by blockbuster names like Call of Duty: Black Ops 4 and FIFA 19, while Marvel's Spider-Man is still hanging around. We've included the full top ten below.
Read the full article on pushsquare.com
Source/ Readmore at PushSquare http://www.pushsquare.com/news/2018/11/uk_sales_charts_aint_no_shifting_red_dead_redemption_2_from_summit