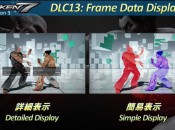 Source: PushSquare: http://www.pushsquare.com/news/2019/10/tekken_7_is_finally_getting_in-game_frame_data_alongside_additional_training_modes
Plus Harada customisation items.
Despite its undeniable popularity as a fighting game, Tekken 7 has never provided players with much in the way of a tutorial or any in-depth training modes. In particular, a lot of people have been asking for in-game frame data since launch, but the development team — more specifically, Tekken godfather Katsuhiro Harada — has always been against the idea.
Read the full article on pushsquare.com