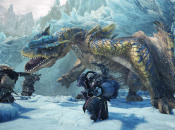 Sammy Strikes Again.
With the fall setting in, things are getting a little cooler and a little rainier lately. You know what that means: new games are starting to arrive, and it's the perfect time to dive in. Whether it's something from your backlog or a fresh purchase, won't you join us on a lazy gaming weekend?
Sammy Barker, Editor
This weekend I will be touching down with my ol' pal Travis to play that trashy not-so new No More Heroes title that recently released on the Nintendo Switch. I'm not expecting much.
Read the full article on pushsquare.com
http://www.pushsquare.com/news/2019/10/talking_point_what_are_you_playing_this_weekend_-_issue_293