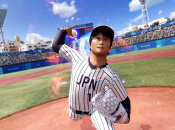 Olympic effort.
Premier League football has finally made its long awaited return, and that's about to eat into our weekends once more. The good news is that the video game release calendar is still relatively dry, so it'll be backlogs all around before the heavy hitters arrive later in the month.
Sammy Barker, Editor
I imported a copy of SEGA's Tokyo 2020 title from Japan, and it's proving brilliant fun so far. I've missed the arcade sports games of yore, but this feels like a return to the Dreamcast days I'm so nostalgic for.
Read the full article on pushsquare.com
http://www.pushsquare.com/news/2019/08/talking_point_what_are_you_playing_this_weekend_-_issue_284