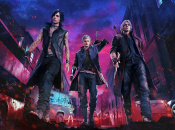 Pick 'n' mix.
It's been a busy few weeks on the PlayStation 4, meaning we'd be surprised if you've got nothing to play this weekend. In addition to the latest batch of PS Plus games, we've also seen the release calendar stuffed to the figurative brim with big new titles, like Resident Evil 2 and Kingdom Hearts III.
Sammy Barker, Editor
I haven't been committing to any one game of late, just playing a little bit of whatever takes my fancy. While it's quite unlike me, I've been enjoying the variety of experiences, but this weekend I think I really need to sit down and polish off Resident Evil 2.
Read the full article on pushsquare.com