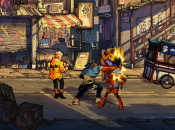 Soundtrack created by many Japanese composers.
From what little we've seen of Streets of Rage 4, it seems to be shaping up very nicely indeed. However, for fans of the classic SEGA series, a huge part of the appeal is the music. Japanese composer Yuzo Koshiro is often solely credited for creating the beloved sound the games are known for, and there's been a widespread hope he would make a return to work on Dotemu's modern revival. Good news: he is.
As confirmed in the above video, Koshiro will be composing original music tracks for the cel-shaded sequel. However, he's not alone. As outlined in the description of the video, several notable music makers are collaborating on the soundtrack. This includes Motohiro Kawashima (who also made music for previous Streets of Rage games), Yoko Shimomura, Hideki Naganuma, and Keiji Yamagishi. Together, their total body of work includes the likes of Street Fighter II, the Kingdom Hearts series, Jet Set Radio, Super Monkey Ball, Ninja Gaiden, and more.
Read the full article on pushsquare.com
http://www.pushsquare.com/news/2019/07/streets_of_rage_4_will_feature_original_music_from_yuzo_koshiro_and_many_more