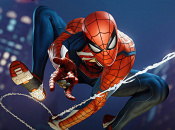 Looking forehead to it.
Steely nemesis Hammerhead will star in Marvel's Spider-Man's second DLC pack Turf Wars, a patch for the PlayStation 4 exclusive has revealed. The villain – whose skull is replaced with titanium – will come to blows with the web-slinger from 20th November, when the next portion of The City That Never Sleeps storyline is set to release.
If it's anything like the previous expansion, The Heist, then you should probably expect more of the same from the add-on pack; no doubt there'll be new story missions, side-content, and collectibles. It's all part of the title's Season Pass which can be purchased from the PlayStation Store right now. Looking forward to it?
Read the full article on pushsquare.com
Source/ Readmore at PushSquare http://www.pushsquare.com/news/2018/11/spider-man_ps4s_turf_wars_dlc_brings_hammerhead_to_the_fray