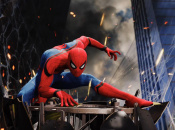 Fans forced to go digital.
Media Create has expanded upon this week's Japanese sales charts, revealing that Marvel's Spider-Man has actually been selling out. The game sold through over 96 per cent of its original retail shipment in the region, forcing fans to turn to the PlayStation Store to snag digital copies of the superhero exclusive.
For those of you who don't know, the title sold over 125k units in its first week, making it the strongest launch for a Spidey title in the region. The release received the same accolade in the UK, so now we're just waiting for Sony to reveal the global picture for the open world outing. Is anyone expecting anything other than enormous success?
Read the full article on pushsquare.com