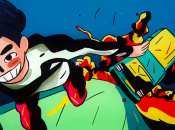 Source: PushSquare: http://www.pushsquare.com/news/2019/12/sonys_in_the_firing_line_as_its_latest_japanese_ad_reportedly_plagiarises_animation_from_multiple_sources
Cel shady.
At the end of last week, Sony uploaded one of its regular PlayStation lineup music videos on its Japanese YouTube channel. As usual, the advert featured some gorgeous animation in between all the gameplay footage. These videos are always a treat, but the latest one has run into a spot of bother. Sony has now removed said video from its channel following reports that the animations are plagiarising the work of other artists. You can watch a mirror of the video through here.
The above tweet shows the PlayStation trailer's animations on the right, and originals on the left. As you can see, the similarities are too obvious to deny. The director/animator who led the way on Sony's advert is Kevin Bao, and it's now been found that he's copied the work of others before. Additionally, Bao's page on the CONNECTION agency site has been taken down, as has his Instagram.
Read the full article on pushsquare.com