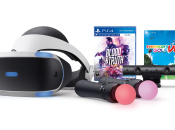 There's never been a better time.
Sony's lined up a compelling month for PlayStation VR, so it's only natural that it has a couple of new hardware bundles in the pipeline. Due out in North America later this month, the first package collects Blood & Truth, Everybody's Golf VR, a PlayStation Camera, and a couple of PS Move controllers for $349.99. Of course, you also get the headset itself, in addition to the latest PSVR Demo Disc.
The other option – which is a bit cheaper – comes with download codes for Trover Saves the Universe and Five Nights at Freddy's VR: Help Wanted, as well as the headset and a PlayStation Camera. There are no PS Move wands included in this option, but it will retail for the lower price point of $299.99. Honestly, we think the previous deal is the better option.
Read the full article on pushsquare.com