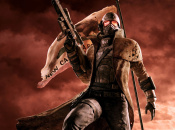 Source: PushSquare: http://www.pushsquare.com/news/2019/10/soapbox_the_outer_worlds_highlights_just_how_far_fallout_has_fallen
What could have been.
This week, The Outer Worlds was released. Obsidian's sci-fi role-playing game may not push the genre forward in any radical way, but it is an excellent example of what's possible when player choice is promoted above all else. I'm busy playing through The Outer Worlds for the third time in about as many weeks, and I'm still finding new ways to complete quests and build my character. It's a fantastic RPG.
Read the full article on pushsquare.com