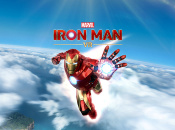 Credit where credit's due.
I remember prior to the release of PlayStation VR there was a lot of chatter on this site in particular that Sony would scrap the headset like previous platforms should it fall short of expectations. To be fair, the organisation's track record isn't great: the EyeToy was prematurely given the boot, opening the market for Microsoft's more advanced Kinect; the PS Move motion controllers – despite later becoming a pivotal part of the PSVR experience – were largely left to die on the PlayStation 3; and the PS Vita, for many, still stings.
But last week's State of Play presentation attracted criticism for one major reason: for some outspoken social media users, there was too much PSVR. I really think the Japanese giant deserves credit for the way it's managed the headset, because there have been several occasions now where it's completely reloaded the device's roster of software, and given owners plenty to look forward to. And the next three months look utterly outstanding for virtual reality.
Read the full article on pushsquare.com