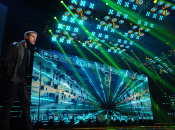 Liam wants all the announcements to be saved for the night.
It's probably a little bit counterproductive of me, a writer for a video game website, to be getting tired of the hints towards what we should expect at the next videogame extravaganza, but here we are. The Game Awards are taking place tomorrow night, and host Geoff Keighley has been teasing announcements and special guests for the past few days now, but his latest reveal goes a little too far in my opinion. We now know that a new Far Cry game will be shown tomorrow night, and while I wasn't a big fan of the series' fifth iteration, that's still a big announcement. I ask: Why couldn't all of that be saved for the actual event taking place within the next 35 hours?
Many, many people use the rebuttal that you're simply buying into a publisher's hype machine by tuning into these sorts of shows and fuelling the likes of pre-orders, but I simply cannot help it. I get very excited for any sort of event that will play host to new game announcements, I book an entire week off work for E3, and I keep track of every piece of news and industry happening. It's obvious that I share this passion with every one of you too, but for me personally, when I see Mr. Keighley taking to Twitter to tell me that I should expect more footage of RAGE 2, I just sort of sigh.
Read the full article on pushsquare.com