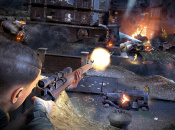 Third time's a charm.
Sniper Elite started life on the PlayStation 2, and was later remade for the PlayStation 3 in the form of Sniper Elite V2. What harm is another console generation going to do, then? Sniper Elite V2 Remastered is due out this year on the PlayStation 4, bringing you back to Berlin with 4K graphics on the PS4 Pro and HDR support.
The third iteration of the popular stealth shooter will include new characters, expanded multiplayer, and a frame-by-frame Photo Mode – enabling you to capture every assassination in all of its gruesome glory. It'll also bundle in all of the original's DLC, allowing you to put a bullet in the Führer once more.
Read the full article on pushsquare.com