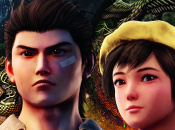 Source: PushSquare: http://www.pushsquare.com/news/2019/11/shenmue_iiis_review_embargo_moved_forward_to_release_day
Yu won't have to wait.
Update: Publisher Deep Silver has revised the Shenmue III embargo, now allowing critics to publish their verdicts on the title from launch day, on 19th November. While we won't be running our review at that time — this is a relatively large title that demands more of our time — we should have some first impressions ready to go tomorrow.
---
Original Article: Shenmue III launches on 19th November, but media receiving review code from publisher Deep Silver will be forced to wait until 21st November in order to cover the title. That's because the company has set an embargo on the release, preventing press from scoring the long-awaited sequel until two days after launch.
Read the full article on pushsquare.com