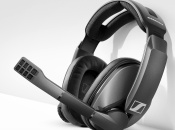 That's a lot of gaming.
German audio specialist Sennheiser has announced a new gaming headset that's compatible with PlayStation 4. The device is wireless, connecting to the console via USB dongle, and it offers up to a whopping 100 hours of battery life from just one charge. If only the DualShock 4 was so efficient.
The GSP 370 will set you back a chunky £169, but the sell is that you're obviously paying for quality. The audio offers "exceptional bass performance and acoustic clarity", while the noise-cancelling microphone is apparently broadcast-worthy.
Read the full article on pushsquare.com
http://www.pushsquare.com/news/2019/10/sennheiser_announces_wireless_ps4_headset_that_can_last_100_hours_without_charging