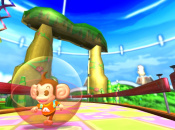 New game on the way?
It's been a heck of a long time since we've heard anything regarding Super Monkey Ball. SEGA's arcade classic last made an appearance on PlayStation with PS Vita's Super Monkey Ball: Banana Splitz, and that was nearly seven years ago. However, it's been discovered that the publisher has recently filed a new trademark, and it's got fans all excited.
Tabegoro! Super Monkey Ball has been trademarked in Japan, and this of course has led to the conclusion that a new game in the series is on the way. While that's certainly possible, we'd maybe hold fire on the hype until we know a lot more. "Tabegoro" apparently means "ripe," "in season," or "good to eat." This is purely speculation on our part, but could this be a remaster of some kind?
Read the full article on pushsquare.com