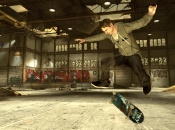 Source: PushSquare: http://www.pushsquare.com/news/2019/11/rumour_tony_hawks_pro_skater_remakes_incoming_says_infamous_insider
E3 2019 leaker returns.
The original Tony Hawk's Pro Skater and its sequel are widely considered to be two of the very best games released on the PSone, so imagine our delight when reports began cropping up about potential remakes of the excellent twosome. According to one Twitter insider, who rather unceremoniously leaked almost the entirety of E3 2019 earlier this year, the titles are about to be released on PlayStation 4 with a fresh lick of paint.
According to Sabi, prototypes of the remake have been kicking around Activision for a while now, but now they're about to be released on the current generation of consoles as fully-fledged games. If we take the rumour to be true, which we do with a very large grain of salt, could this be an announcement planned for The Game Awards?
Read the full article on pushsquare.com