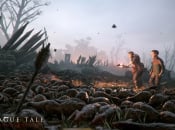 Source: PushSquare: http://www.pushsquare.com/news/2019/12/rumour_a_plague_tale_2_in_development_planned_for_release_in_2022
Stripped of innocence.
Eek! This is a rumour that gets this particular scribe rather excited. A Plague Tale: Innocence is one of 2019's most underrated games, but that didn't stop people from going out and buying it — the game and RPG GreedFall increased publisher Focus Home Interactive's revenue by 80%. It's no wonder then that a sequel is supposedly in the works.
Initially reported by Xbox Squad and then picked up by Eurogamer, the title is said to be planned for launch at some point in 2022, making it a PlayStation 5 game. When contacted for comment, the AA publishing heavyweight said: "Of course, we announced last year we are partnering with Asobo for a future project but never confirmed if it was a sequel to A Plague Tale or not – and will give more details on that title when the right time comes."
Read the full article on pushsquare.com