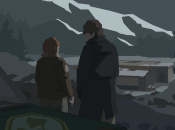 That's the sound of da police.
After a brief two month period of exclusivity over on the PC, This Is the Police 2 has made its way to the PlayStation 4 with new gameplay mechanics and expanded offerings in an attempt to build upon the foundations laid by the successful 2016 original. While one or two of these additions may have caught its fan base off guard, does the crime beating follow-up deserve the Queen's Police Medal or a life sentence in jail?
Following the events of This Is the Police, former police chief Jack Boyd is on the run after escaping the clutches of Freeburg's corruption. Moving and setting up shop in the town of Sharpwood proves to be a bad idea though, as the house he decides to rent out is the target of a police raid thanks to the suspicion of drugs hidden under its floorboards. Once the accusation turns out to be correct, Jack is forced to spend the night in a cell, where he manages to convince Sheriff Lily Reed that there has been a misunderstanding. He assures her that he is a cop himself, and with an agreement made, the two band together to try and sort out Sharpwood's crime issues.
Read the full article on pushsquare.com
Source/ Readmore at PushSquare http://www.pushsquare.com/reviews/ps4/this_is_the_police_2