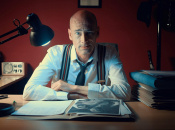 Colonel Mustard, in the study, with the DualShock 4.
The Shapeshifting Detective is a new FMV (Full Motion Video) game from Wales Interactive. It's a curious game that pretty much does what it says on the tin. You take on the role of the titular detective and have the ability to take on the likeness of anybody you come into contact with, like a deranged, constantly regenerating Doctor Who.
The concept becomes apparent quite quickly. There's been a murder, and you're in charge of solving it. You click between a handful of suspects to interview in a stereotypical manor house setting straight out of an episode of Midsomer Murders. You can also hail a cab to visit further family members, the Chief of Police, and suspects who aren't staying in the house. The game displays all of these interactions in HD, so they look and sound excellent. The number of variable interactions is also a strong selling point, leading to multiple different playthroughs depending on your approach, as well as the order that you interview in. You can also choose to delete questions that you think might put you in a tight spot, or ruin a relationship with a particular character, which can be handy.
Read the full article on pushsquare.com
Source/ Readmore at PushSquare http://www.pushsquare.com/reviews/ps4/shapeshifting_detective