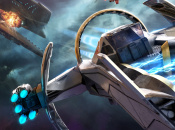 Toys that aren't so lively.
The toys-to-life fad that fuelled the likes of Disney Infinity, Lego Dimensions, and Skylanders died out years ago, didn't it? Apparently not, because here we are in 2018 with a brand new product line on the market. Starlink: Battle for Atlas, from French behemoth Ubisoft, releases alongside a slew of physical space ships, characters, and weapons, but is there a quality experience to be found among all the plastic? Does this space odyssey dare to explore uncharted territory, or is it more of a grounded trip to the moon? Whatever the answer, at least we don't have to put up with Star Fox!
With the vast Atlas star system to rummage through, of course it's the leader of your own mothership that is taken hostage by the Forgotten Legion. Led by illustrious foe Grax, the faction attempts to harness the power of an extinct race known as the Wardens, and your captain is the key to unlocking it. This kick-starts a rescue mission that will have you exploring the deepest reaches of space in order to rally support, resources, and troops for an assault on the army's base.
Read the full article on pushsquare.com
Source/ Readmore at PushSquare http://www.pushsquare.com/reviews/ps4/starlink_battle_for_atlas