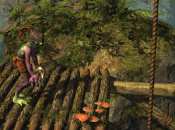 Slimy, yet satisfying.
True to its name, Oddworld: Abe's Oddysee is one of the oddest games ever created, with a unique look and feel, bizarre visuals, and an enjoyably dark wit. Now known as the first of a franchise, the original classic wowed players back in 1997 with impressive graphics and full voice acting. This was a game that reminded players why the CD-based hardware of the PlayStation was superior to the cartridge games offered by Nintendo. While he never quite reached household name status like Crash or Spyro, Abe has his place in gaming history, and it all started here.
Abe's Oddysee is a 2.5D platformer that tasks you with navigating the dangerous alien underworld, manipulating and persuading NPCs, and, in some places, stealthing your way past sleeping foes. Abe can achieve this via a variety of methods, usually exclusive to solving a puzzle on each screen. He has the ability to mind control Slings, the most common grunt enemy, as well as the charisma needed to convince his fellow Mudokons to help him out after rescuing them. As one of the earliest examples of a perfect ending reward, collecting all of these chaps along the way awards you a secret full motion cutscene for your trouble. Collecting half of them also entitles you to the good ending.
Read the full article on pushsquare.com
Source/ Readmore at PushSquare http://www.pushsquare.com/reviews/psone/oddworld_abes_oddysee