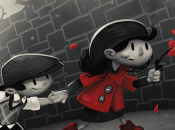 And it's got Patrick Stewart.
Part of a newly-popular genre we like to call 2D Puzzle Stealth Platformers About Living Through Hard Times – think games like Black The Fall or Valiant Hearts – My Memory of Us follows a boy and a girl trying to survive an invasion by the Robot King, which is an allegory for the Nazi invasion of Poland that began World War 2. Apart from a few gameplay frustrations here and there, it's both a profound and enjoyable experience.
Stylistically, My Memory of Us is fantastic. Sir Patrick Stewart's narration during cutscenes is great, but the visual style of the game in general really pops. Sure, it takes some pretty heavy liberties from Schindler's List, using a black and white art style for the most part with splashes of red, but that doesn't make it any less effective when mixed with a 1930s-style animation. The music in this game is excellent too, especially in the more moving moments.
Read the full article on pushsquare.com
Source/ Readmore at PushSquare http://www.pushsquare.com/reviews/ps4/my_memory_of_us