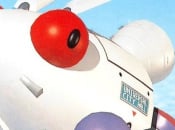 Buy it, don't Robbit.
The 16-bit console wars were merciless. During the early concept stage of the PlayStation console, Sony took part in an ill-fated collaboration with Nintendo to create a CD-ROM add-on for the SNES. In September 1995, Jumping Flash! was a PSone launch title, and it's the type of game that makes you wonder what would have happened if Nintendo hadn't engaged in their infamous double dealing. Published by Sony but created by a little known developer called Exact Inc., Jumping Flash! feels visually like the natural continuation of games from the Super Famicom era, but presented through 32-bit polygon worlds.
Viewed from a first-person perspective, the gameplay in Jumping Flash! still feels fresh today. You pilot and control a gigantic robotic rabbit, unsurprisingly named Robbit, across 18 stages that are spread over six worlds. Each level is a floating island, and there is a light-headed sense of exhilaration and verticality as Robbit triple jumps upwards, ascending platforms and searching to collect four hidden carrot-shaped jetpods. Robbit reaches the dizzying heights of Super Mario Sunshine's rocket nozzle, but with a greater sense of control, because with each leap Robbit looks downward, allowing you to judge where to land based upon his shadow.
Read the full article on pushsquare.com
Source/ Readmore at PushSquare http://www.pushsquare.com/reviews/psone/jumping_flash