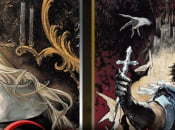 A memorable little pile of secrets.
Unsung heroes are prominent in literature and film. Without spoilers, consider if Frodo had embarked on his quest without Sam's support in The Lord of the Rings, and think about nerdy Neville Longbottom's overlooked role in protecting the wizarding world of Harry Potter. The true heroes behind this Castlevania Requiem: Symphony of the Night & Rondo of Blood double-pack are the original developers, artists, and music composers of both retro games. However, the unsung wisdom in the background of this PlayStation 4 bundle comes from whoever it was amongst Konami's staff who compiled such a fan-focused list of Trophy tasks — incentivising and encouraging players to explore for secrets.
Castlevania: Rondo of Blood is a 2D side-scrolling platformer, in the vein of the traditional stage progression gameplay style, which originated in the series in NES Castlevania. In theory you can play through linear progression of its prologue and following eight stages to finally battle Dracula within less than 90 minutes, but that's unlikely considering its punishing difficulty level. Take into account the replay value of searching for its four hidden stages, and it will take much longer to complete all thirteen stages without a walkthrough.
Read the full article on pushsquare.com
Source/ Readmore at PushSquare http://www.pushsquare.com/reviews/ps4/castlevania_requiem