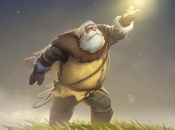 Source: PushSquare: http://www.pushsquare.com/reviews/ps4/arise_a_simple_story
Back to the future.
Spanish developer Piccolo Studio's debut title is one that wears its heart on its sleeve. Pitched from the outset as an uncomplicated experience, it embraces that nature to tantalizing effect with a collection of levels that is sure to pull on even the tightest of heartstrings. It's a game that refuses to dabble in complex mechanics or convoluted narratives, and Arise: A Simple Story is all the better for it.
Placed in the shoes of an elderly gentleman, this is a bittersweet tale of his life and the memories he shared with a lover. The man dies at the very beginning of the game and revisits important events that shaped his story in the afterlife, taking the shape of rocky sculptures which become interactable as you draw near. This aspect is what turns the journey into a sombre one — focused more on the highs before the dread of death starts to creep in.
Read the full article on pushsquare.com