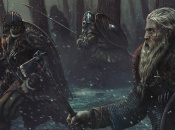 Generational talent.
As recent as last console generation, an RTS on console – with the exception of Halo Wars – was pretty much guaranteed to be a nightmarish experience. There are just too many systems and too many things to monitor to be able to successfully transfer the genre to a controller. Fast forward a few more years and now it's commonplace to find not just functional console RTS games but damn good ones. Enter Ancestors Legacy, a title released on Steam in 2018, but always with the intent of hitting consoles.
An RTS with a Viking slant, Ancestors Legacy offers up a robust but delicately streamlined title that works exceedingly well with a controller. Like many RTS titles, the campaigns – of which there are eight, spread across four factions – serve as glorified tutorials for the online and Skirmish modes. Playing as one of the Vikings, Slavs, Anglo-Saxons, or Germans, you can work your way through the adequate but not overly impressive stories. Or you can compete in up to 6-player matches, with a wide array of sliders and options to customise your Skirmish experience. As you'd expect, the factions come with different pros, cons, and hero characters to make the most of, so choose wisely.
Read the full article on pushsquare.com
http://www.pushsquare.com/reviews/ps4/ancestors_legacy