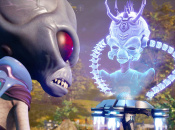 Pre-orders live now.
THQ Nordic is making early preparations for Crypto's arrival on PlayStation 4 in the Destroy All Humans remake. The game isn't due out until sometime next year, but the publisher has gone ahead and detailed two premium editions you can pre-order now. It seems it wants to Destroy All Humans' wallets, too — these things ain't cheap.
The first is named the DNA Collector's Edition. Alongside the game itself, it contains a 9 inch tall figurine, six lithographs, a keychain, all in-game Crypto skins, and an eye-popping Crypto stress toy. It's going for $149.99, which is already pretty expensive.
Read the full article on pushsquare.com
http://www.pushsquare.com/news/2019/08/pricey_destroy_all_humans_ps4_special_editions_include_statues_stress_toys_and_a_crypto_backpack