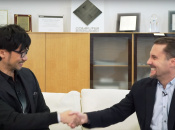 Source: PushSquare: http://www.pushsquare.com/news/2019/11/poll_should_sony_work_with_hideo_kojima_again
What's next for Kojima Productions?
Death Stranding is out today, bringing a conclusion to one of the most prestigious partnerships in games. Sony bent over backwards for Hideo Kojima, providing him with the source code to Guerrilla Games' Decima Engine and a budget big enough to produce a title with a bunch of Hollywood stars. Nevertheless, the title will still release on PC at a later date, suggesting that there were compromises that needed to be made.
Of course, the question on everyone's lips now is: what's next for Kojima Productions? The studio is intrinsically linked to PlayStation, with the platform holder outright owning its first intellectual property and the engine that it's familiar with. An acquisition seems unlikely, as without its charismatic leader, the team would lose significant value – and he's also suggested that he'd like to maintain creative independence, potentially making movies in the future.
Read the full article on pushsquare.com