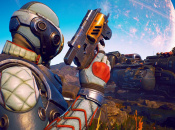 Source: PushSquare: http://www.pushsquare.com/news/2019/11/october_2019_npd_the_outer_worlds_stuns_as_modern_warfare_expectedly_explodes
Obsidian's RPG in at second.
There were reports that The Outer Worlds was off to a particularly strong start, but few could have expected the Obsidian developed role-playing game to sell quite this well: it's finished second in the October 2019 NPD report for software sales in the United States. Only the might of Call of Duty: Modern Warfare could outperform it, which is already the best-selling game of 2019 to date. Of course.
This was a decent month for the American games industry, with a total of $1.03 billion spent across hardware and software categories. Naturally, the release of Red Dead Redemption 2 last year means that it's down 34 per cent compared to 2018, but it's not every year you get a new juggernaut from Rockstar Games, is it? We've included all of the relevant chart information below.
Read the full article on pushsquare.com