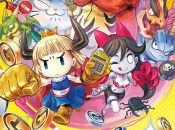 Trio of titles due next year.
Sony will cease manufacturing PlayStation Vita cartridges next year, spelling an end to physical releases on the handheld. The device will be supported right through to the end, though, as NIS America has announced a trio of titles that it will be bringing to retail from 19th March in North America. There's no confirmation of European editions just yet, but the publisher has said it's "looking" into the possibility.
The titles are: The Lost Child, Penny Punching Princess, and The Longest Five Minutes. All three can currently be purchased digitally from the PlayStation Store, but if you wanted boxed copies, these will set you back $29.99 apiece. Kudos to NIS America for supporting the PS Vita right through to the end – it's been a blast.
Read the full article on pushsquare.com
Source/ Readmore at PushSquare http://www.pushsquare.com/news/2018/11/nis_america_announces_its_last_ever_retail_ps_vita_releases