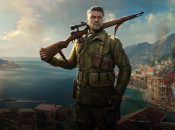 Popping penises on PS5?
A full-scale sequel to Sniper Elite 4 is in development at Oxford-based developer Rebellion, but it won't be sharing anymore information for a year. That's particularly curious timing, when you consider that we'd expect the PlayStation 5 to be officially announced by then. Could it be a next-gen title? We honestly wouldn't bet against it.
"It's still very early in development," CEO Jason Kingsley told fans in a video. "We're not going to be talking about it for at least a year, but the team here are busy working away in the background to create the latest greatest Sniper Elite experience." In the meantime, you've got Sniper Elite V2 Remastered to look forward to.
Read the full article on pushsquare.com