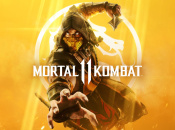 Will Ronda Rousey voice Sonya?
This is Mortal Kombat 11's box art – it looks like Mortal Kombat box art. You expected more from this article? Well, what do you want us to say? It's got Scorpion on it. It's yellow. It says Mortal Kombat 11 on it. It's got the guy from The 1975's tattoo in the background, which is a bit weird, but maybe Ed Boon is just a big fan.
Strangely, this does seem to corroborate a leak which claimed that Ronda Rousey will be voicing Sonya, which sounds just about wild enough to be true. That'll allegedly be confirmed on 17th January, when the title is set to be detailed in full.
Read the full article on pushsquare.com