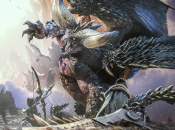 That's a lot of monster hunters.
We already knew that Monster Hunter: World had become Capcom's best-selling game of all time, but the 2018 success story continues as the game has now reached a whopping 12 million units shipped worldwide.
Announced as part of the company's 2018/19 financial results, the statement reads: "Monster Hunter World continued to report strong sales, with total shipments breaking 12 million units, marking a record high for any single title in the company's history." It's an impressive number for a franchise that has only traditionally done well in Japan, but those aren't the only numbers worth making a fuss about.
Read the full article on pushsquare.com