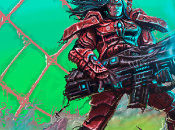 Source: PushSquare: http://www.pushsquare.com/reviews/ps4/valfaris
Go to Hell, for Heaven's Sake.
Valfaris isn't interested in pleasantries and introductions. The Slain: Back From Hell spiritual successor is a headbanging romp across an alien planet that lets the action do the talking. Teeming with the Devil's deadliest associates, it's 2D shooting mayhem that manages to match impressive enemy designs with hellish weaponry ready to slaughter.
There's clearly no rest for the wicked down under, with an unrelenting horde of creatures to blame. This is non-stop conflict that only just makes enough room for a handful of enjoyable platforming sections here and there. That's no bad thing, however, because Valfaris is intensely exhilarating. Equipped with a melee weapon and two guns of your choosing, downing enemies is relatively simple but it becomes a vastly different experience as more and more combatants flood the screen. Crowd control is a consideration while the game borders on becoming a bullet hell shooter.
Read the full article on pushsquare.com