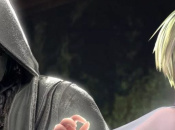 Source: PushSquare: http://www.pushsquare.com/reviews/ps4/last_labyrinth
At least it's the last one.
Every so often, a video game will come along that seemingly defies all preconceived logic and common sense. That can be a good thing, or it can go the way of The Quiet Man. Unfortunately, Last Labyrinth is a PlayStation VR title that very much belongs in the latter category. Its core mechanic is sound enough, if a little stale by this point, but it's the decisions made around the edges that turn this into one of the most baffling experiences we've had inside a virtual reality headset.
Strapped to the confines of a wheelchair, this is an escape room-style undertaking which limits you to just a single interaction. A laser is perched on top of your head, and you'll use this to guide a young girl through various puzzles that range from the insultingly simple to seemingly impossible.
Read the full article on pushsquare.com