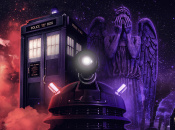 Source: PushSquare: http://www.pushsquare.com/reviews/ps4/doctor_who_the_edge_of_time
Wibbly wobbly timey wimey.
It's always felt like BBC's campy sci-fi show should be a home run in video games, but it's rarely translated well to an interactive format. PlayStation VR adventure Doctor Who: The Edge of Time is an effort to change that, but it's ultimately a bit flat, leaning a little too heavily on fan-pleasing moments instead of breaking new ground.
With the Doctor marooned somewhere in time and space, it's up to you to solve puzzles, evade monsters, and fly the TARDIS in a bid to save the universe. Using the Move controllers, you're able to interact with certain objects and wield a sonic screwdriver as you explore a handful of short levels. Motion tracking is fine, and there are one or two clever puzzles to decipher, but there's a strange lack of instruction at points. Starting the game, it doesn't tell you the controls, and you're often left to figure out what you're meant to be doing until a dialogue hint ushers you in the right direction.
Read the full article on pushsquare.com