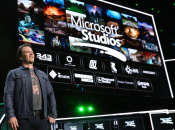 Source: PushSquare: http://www.pushsquare.com/news/2019/11/microsoft_may_have_just_put_an_end_to_the_studio_acquisition_wars
Hallelujah.
Back when your humble host was a wee nipper, forum battle lines were drawn with exclusive games. Online dwellers would spend nary an hour listing out first-party titles for their favourite console, and it was the device with the most high-quality software that rode away into the sunset with a smug sense of satisfaction.
As time has passed – and the number of bonafide exclusives has dwindled – enthusiast gamers have found new territory, most recently in the form of studio acquisitions. This all started with Microsoft snapping up a bunch of studios from the brink of bankruptcy a few E3s ago, and has been a common point of discussion ever since.
Read the full article on pushsquare.com